Local Plan Issues and Options Consultation
Epsom & Ewell Borough Council has issued a Consultation Document (with supporting evidence documentation) to seek public views on how the development needs (especially for housing) of the Borough can be met for the period 2017 to 2032, promoted by the image below.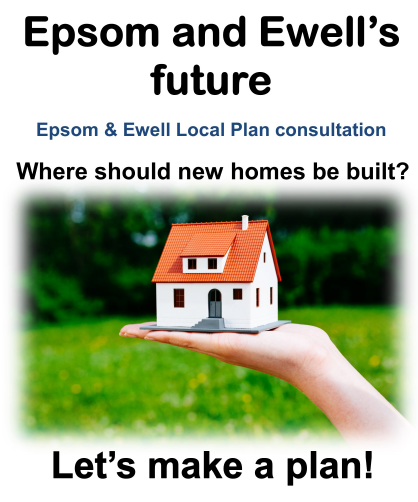 Members of the Society's Committee were involved in discussions about the preparatory work for the Local Plan Review, and we held an Open Meeting earlier this year to seek members' views on priorities. We shall also be in the Ashley Centre on Saturday 28th October with a display relevant to the Local Plan review.
The new consultation by the Borough Council's planning team arises from the need to update the Local Plan to reflect latest central government planning policy, which seems to be aiming at a much larger new housing target for Epsom than even our own planners had assumed from the evidence base documentation prepared this year.
The decisions as to what form(s) extra housing will take and where it should go will be extremely difficult, and potentially represent a significant threat to the Green Belt surrounding Epsom.
The Society therefore strongly urges all members and residents to read the documents and, having done so, respond according to their own views. Copies are available on line, and in hard copy at the Town Hall and local libraries.
The Consultation closes on November 6th and all the documents can be found via this link.